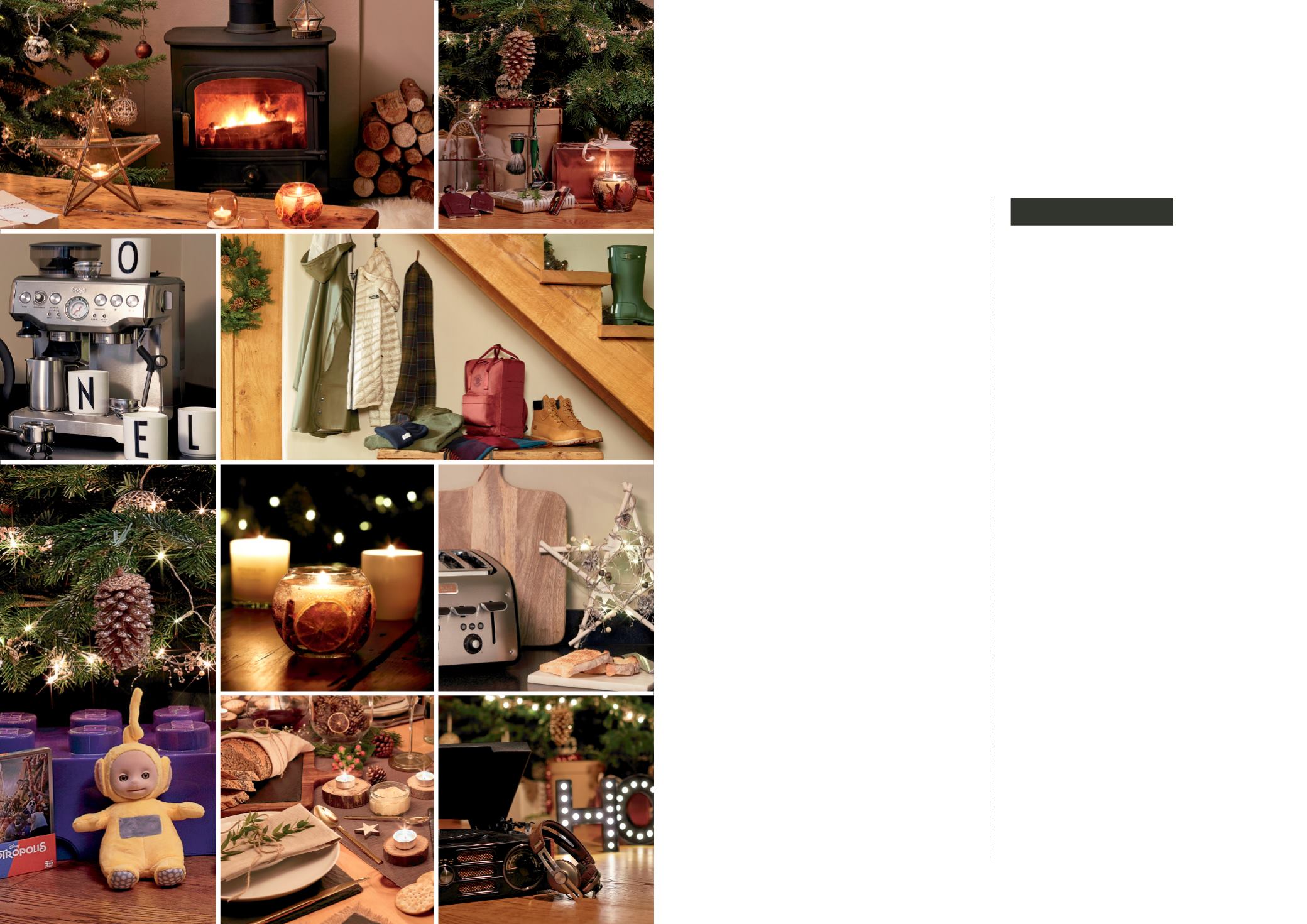 Something for everyone this
CHRISTMAS
04 Feeding the Family
Preparing your kitchen
for Christmas.
06 Dressing the Table
for Christmas
Our top 5 tips for the
perfect setting.
08 Transform Your Home
with luxurious decorations.
10 Treat Her to Something
She'll Love this Christmas
Inspiration gift ideas for her.
12 Feel Beautiful this Christmas
Our top 5 luxurious gift sets.
14 Winter Warmers
Sumptuously soft furnishings.
16 A Home Away from Home
Preparing for guests this Christmas.
18 The Perfect Gift
Inspirational gift ideas for him.
20 The Festive Blend
Coffee machines and cafetières.
22 Top 5 Scented Candles
Create a festive atmosphere at home.
24 Wow Your Kids this Christmas
Most wanted gadgets & toys.
26 Have a High-Tech Holiday
with our selection of electricals.
28 Give the Gift of Light
Home accessories & lighting.
30 Presents that Pamper
for a beautiful Christmas.
32 Sage by Heston Blumental
for a Michelin Star roast.
34 Christmas has Never
Looked so Good
Guide to grooming gifts.
36 A Breath of Fresh Air
Embrace the outdoors this Christmas.
This year, we're taking
festive inspiration from
the forests of Denmark
and the region's concept
of hygge - a term now in
vogue across much
of Europe.
Hygge is described as those short
but uplifting moments of
sheer joy
and comfort
in life free from any
emotional disturbance; think of a
warming cup of hot chocolate in
front of a log fire after a day of work
in the snow, or the calming flicker of
candlelight in a dark, silent room after
a hectic day at the office.
In many ways, hygge encapsulates
the Scandinavian approach to
life. Simplicity, minimalism and an
understated aesthetic defines most
aspects of
Scandi life,
and The Hut is
taking this very approach to prepare
the home for Christmas. Inspired by
the sparse, clean Scandi aesthetic,
we are looking to natural materials,
muted tones and metallic accents to
create a soothing, warm and hygge
ambience at home this Christmas.
We hope you'll join us.
C O N T E N T S
3
2