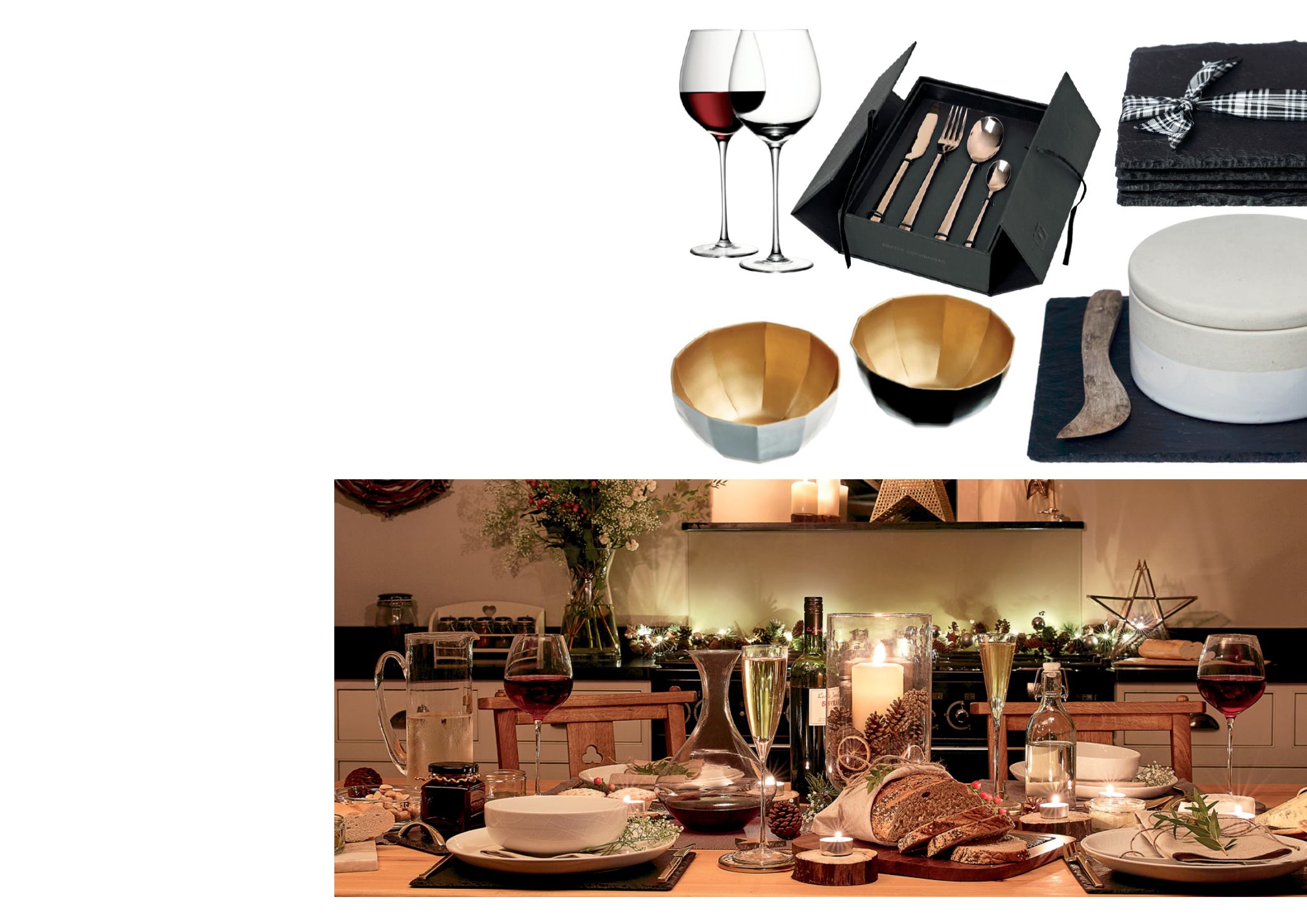 Alongside the Christmas
tree and fireplace,
decorating your dining
table is one of the finer
details that adds a spark
of magic to Christmas day.
With the turkey in the oven
and kids occupied with this
year's haul, transform your
dining table with some
festive finishing touches
recommended by The Hut.
5 TIPS FOR DRESSING
YOUR CHRISTMAS TABLE:
1. Season's Greetings:
Personalise your dining table
with unique place cards for your
guests. From DIY chalkboard
tags to personalised homemade
cookies, make your guests truly
feel at home when they join you
at the table.
2. Tall Centrepieces:
Space can be hard to come by
on the Christmas dining table,
so think about maximising it with
a tall centrepiece.
3. Table Runners:
Add an elegant but festive touch
to your Christmas dining table
with an understated table runner
in muted tones.
4. Go Green:
Quick, simple and easy, adding
greenery to your dining table brings
timeless elegance but also the
quintessentially wintery smell of
evergreen into the home.
5. Candlelit Dinner:
Create a softly lit, calming ambience
at the dinner table by adorning it
with candles. Mason jars customised
in greenery and seasonal pine
cones make for great, festive candle
holders and are also a great way
to keep the kids entertained in the
run-up to Christmas.
Just Slate
Stoneware
Gourmet
Cheese Baker
£35
Just Slate
Gold and Enamel
Nesting Bowls
£21
Just Slate
Square Coasters in
Gift Box - Set of 4
£24
Dressing the
Table for Christmas
6
LSA
Set of 4 750ml Red
Wine Glasses
£48
Broste Copenhagen
Tvis Gold Cutlery Set
£150