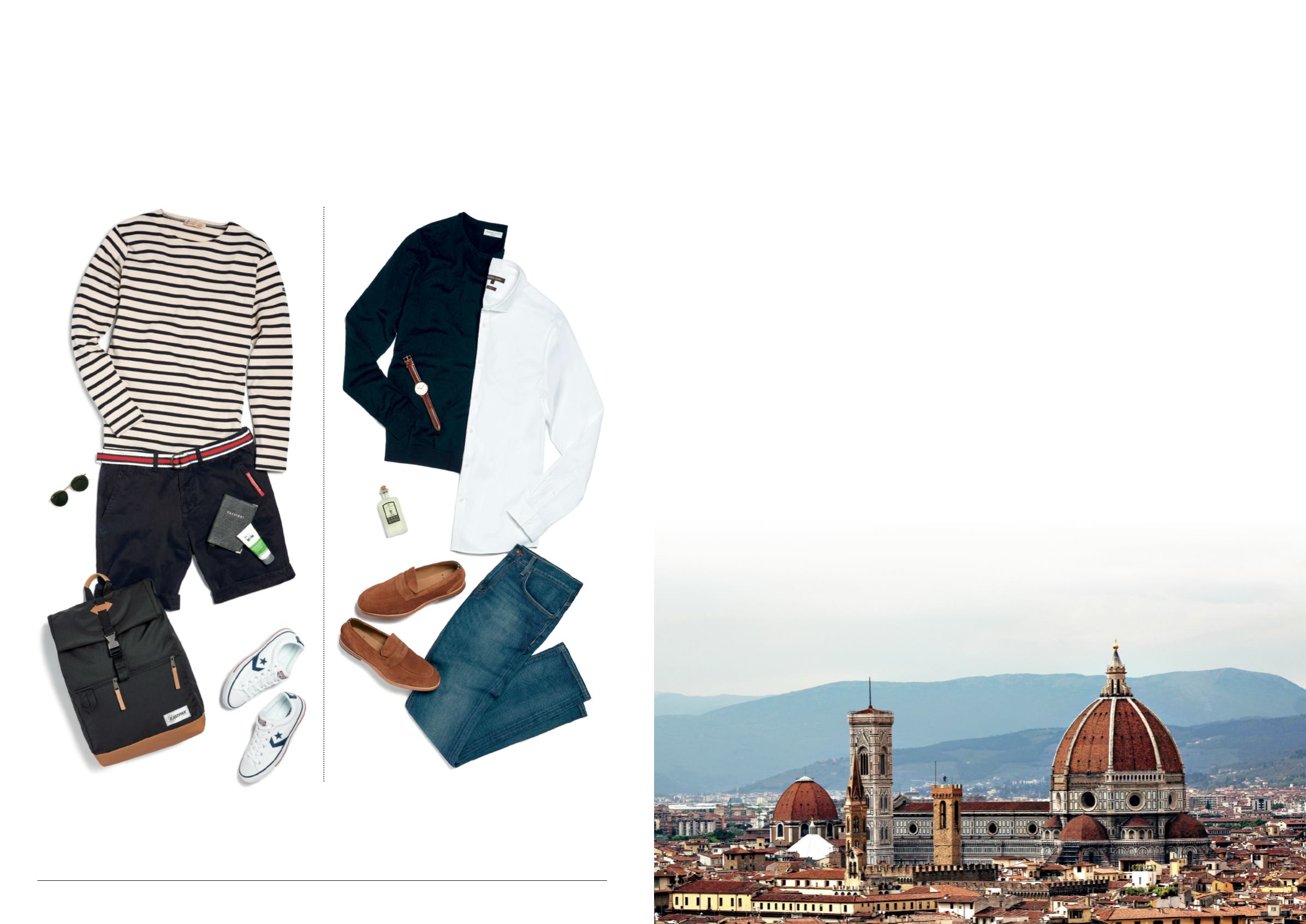 THE WEEKEND
GETAWAY STAPLES
Simplify your holiday look with a capsule wardrobe
of City Break essentials
22 The Hut
Living
1.
Armor Lux Long Sleeve Top
£55
/
2.
Ray-Ban Round Sunglasses
£125
/
3.
Superdry Chino Shorts
£45
/
4.
Aspinal of London Passport Cover
£45
/
5.
Paula's Choice PC4Men Daytime Protect SPF30 (60ml)
£28
/
6.
Eastpak Macnee Rucksack
£70
/
7.
Converse CONS Star Player
£45
/
8.
Selected Homme Jumper
£55
/
9.
Michael Kors Shirt
£105
/
10.
Daniel Wellington Watch
£179
/
11.
Geo. F. Trumper Original Cologne 100ml
£44
/
12.
H Shoes by Hudson Suede Loafers
£85
/
13.
Tommy Hilfiger Denton Straight Leg Jean
£90
European
City Breaks
TOP5
Summer is so close
we can almost smell the sweet scent of the sea and sand in the air.
The winter months can be enduring (to say the least…), making now the perfect time
to plan your
weekend getaway
to one of Europe's many sun-drenched destinations.
Whether you are looking to rejuvenate on a warm beach with an ice cold Daiquiri or
discover a new city with dose of
cool culture and great sights,
The Hut's travel editors
have shortlisted the best European city breaks that should be on your radar for 2017.
4/ COPENHAGEN
The Danish capital is celebrated as a
hub for culture
and design,
with food swiftly rising to become one of
the city's best traits. Noma, one of its many restaurants,
was recently judged "the best in the world", and the
city's food culture comes to the fore in summer when
locals laze the days away
dining al fresco
on its cobbled
streets. The city's creative scene has been key in defining
the now internationally recognised Scandi aesthetic over
the past century, and you can enjoy exploring some of
the
region's finest brands
in their flagship stores in the
city's busy shopping district.
5/ VIENNA
Once a cradle of
classical music
and home to
Sigmund Freud, Austria's capital remains one of Europe's
most culturally rich destinations today. From historic
must-sees such as the Schönbrunn and Hafburg palaces
to the art troves at such
internationally renowned
institutions as the Kunsthistorisches or Albertina
Museums, Vienna offers enough cultural riches to keep
you occupied well beyond the weekend.
1/ PORTO
Located in the north of Portugal with a historic dockland
famous for exporting the wine that made its name, Porto
is a medieval city cherished as a
World Heritage Site
currently undergoing a second cultural renaissance as
Portugal's vibrant young city.
Porto is graced with a
calming freshness in April and May following the rains
of winter, with the city opening up once more along the
banks of the River Duoro with a vibrant café and bar scene.
2/ FLORENCE
The cradle of the
Italian Renaissance,
Tuscany's capital
city offers up fine al fresco dining and riverside drinking
alongside an internationally reputed cultural calendar.
Home to such iconic artworks as Michelangelo's David,
Giotto's frescoes and canvases by Da Vinci, Florence is
an historic city set amidst the
glorious rolling hills
of
Chianti offering up an irresistible blend of art, culture
and natural beauty.
3/ DUBROVNIK
One of Europe's most magnificent walled cities,
Dubrovnik's instantly recognisable terracotta rooftops
and enviable location overlooking the calming blue waters
of the Adriatic made it the perfect shooting location for
the idyllic
King's Landing
in HBO's A Game of Thrones.
Key sights including a still-functioning medieval
apothecary at the Dubrovnik monastery and historic
museums give
culture vultures
plenty to feast on, while
the city's beach is within walking distance for those
wanting to relax and replenish after exploring the city.
1.
2.
3.
6.
4.
5.
7.
8.
9.
1
1.
10.
12.
13.