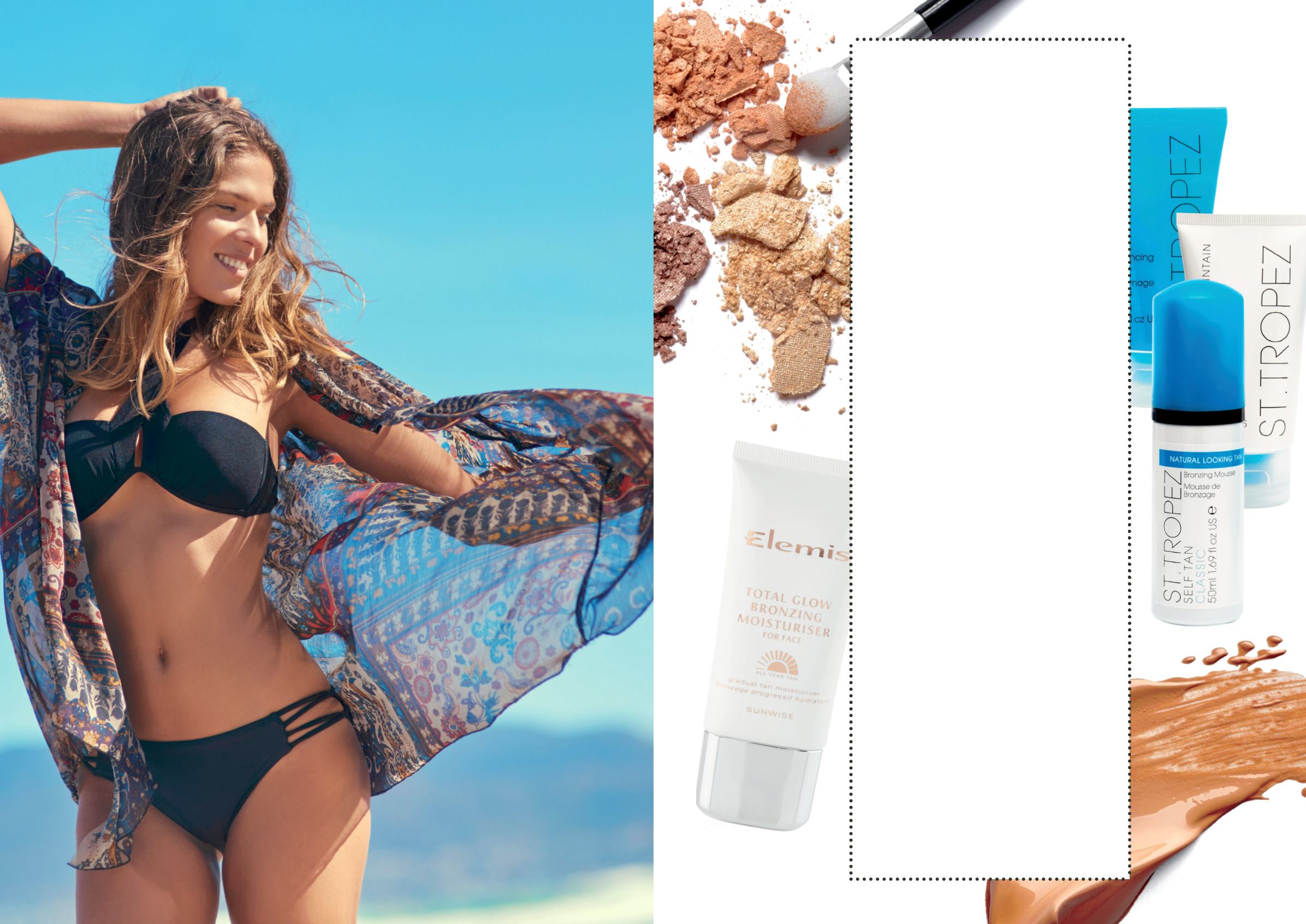 Regardless of the time of year,
a healthy,
sun-kissed glow
is
a
beauty must
. Self-tanners
have had a rise in popularity
over the years, with many
choosing faking it over baking
in the sun; a safer - and faster
– alternative, ensuring
head-to-
toe bronze
all year long.
Glow
get the
Navigating the world of tanners can be
a minefield: depending on your desired
look, choosing the correct product
for you can be a case of trial and error.
Whether you're after a
subtle shimmer
or a deep, just-back-from-holiday tan,
we've got the
definitive guide
to
at-home bronzing…
THE RULES OF SELF-TANNING ARE SIMPLE.
Prep your skin, choose your products wisely,
and treat your tan with respect. For a streak-free
tan that blends evenly, preparation is key. The
importance of exfoliation cannot be stressed
enough; a smooth surface for applying product will
leave you with a beautiful, uniform colour that looks
wonderfully natural. Avoid waxing, moisturising or
spritzing perfume on the day of tanning, too – this
disrupts the distribution of self-tanner, causing
unsightly smears and patchy coverage.
16 The Hut
Living
The Hut
Living
17
EVERYONE HAS A DIFFERENT SKIN TONE,
SO WHAT WORKS FOR ONE MAY NOT WORK
FOR ANOTHER.
If you've got sensitive skin, pick a tanning lotion that
will moisturise and soothe as the colour develops;
remember to use a different formula for your face,
and check whether your tan has a shimmer finish
or dries matte. If you're looking for a more natural
colour, opt for a lighter shade which gradually
develops over time; a darker formula will stain
the skin immediately, so choose something with a
pigment for a deep, rich bronze.
WANT TO ADD DEFINITION TO CERTAIN
PARTS OF YOUR BODY?
Fake it with a tanner: use a dark lotion to contour,
with a softer colour to add highlights. Sweep a
bronzer across your cheekbones and décolletage
for a sharp silhouette, and daub an iridescent
powder on the tip of your nose, Cupid's bow and
chin to create the illusion of light reflection.
LIKE ANY BEAUTY TREATMENT, YOUR GLOW
WILL ONLY LAST IF YOU CARE FOR IT.
Whilst nothing will guarantee how long your tan will
stay beautifully even, moisturising frequently and
avoiding grainy exfoliators will keep your look fresh
for as long as possible. Ready to re-tan? Buff your
existing colour off with a mitt or brush, and start
the cycle again…
SUN-KISSED
SECRETS
St. Tropez Self Tan
Starter Kit (worth
£21.50)
£12.75
Elemis Total Glow
Bronzing Moisturiser
50ml
£30