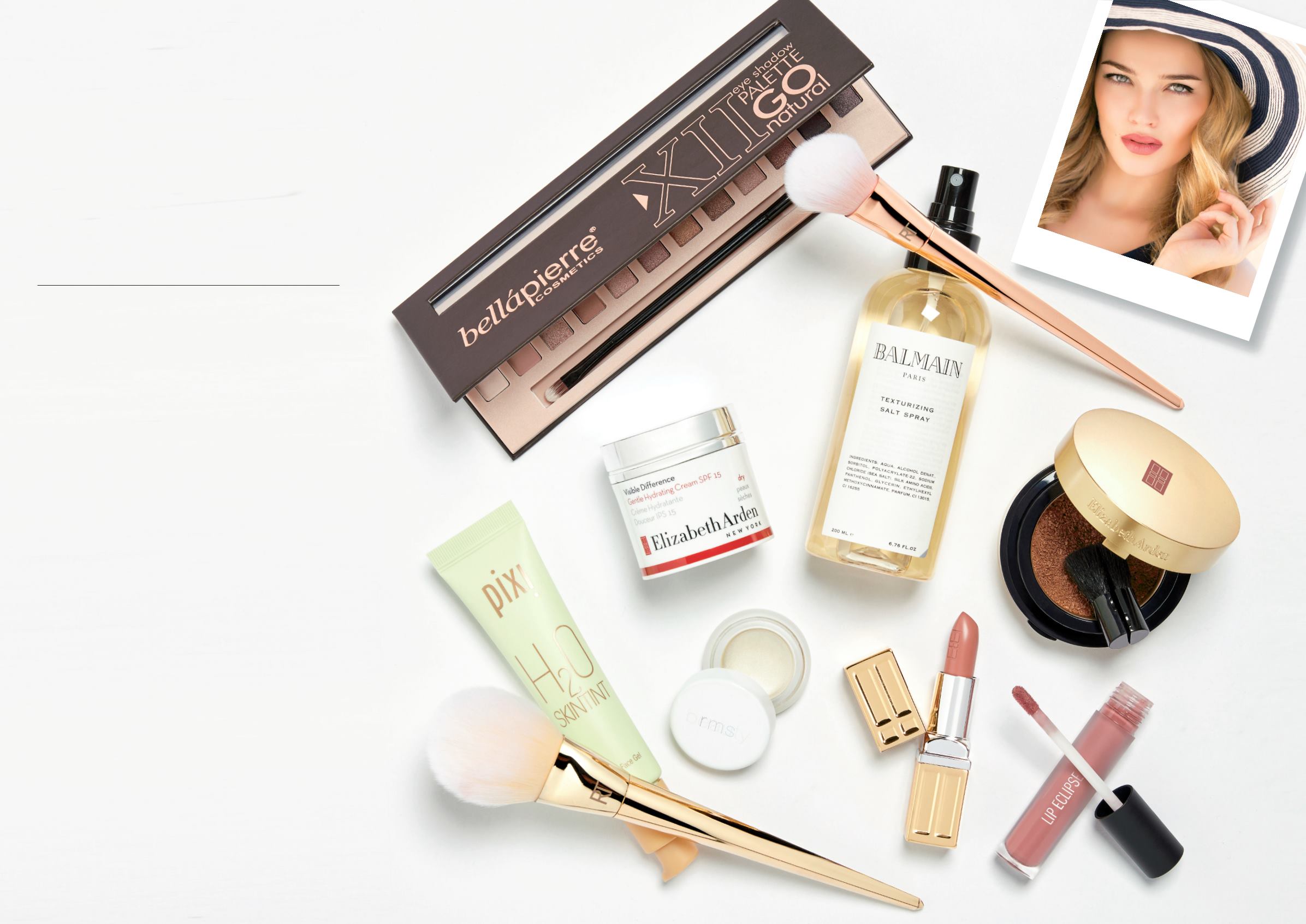 14 The Hut
Living
The Hut's Beauty Editor brings you the
summer essentials you need to achieve
that effortless holiday glow.
HAIR
Avoid damaging your hair with added heat;
Balmain Hair
Texturizing Salt Spray
is the only tool you need to achieve
that tousled, beach hair look. Mist you hair with a generous
amount of product then scrunch between your fingers for
an effortless bohemian vibe.
EYES
Add definition to your natural summer bronze with a subtle
smoky eye. Use nudes and taupes from
Bellapierre Cosmetics'
Eyeshadow Palette
to define the crease and chocolate browns
to intensify your lash line. For a sultry evening look deepen the
crease and add a mirror shade to your lid.
LIPS
A subtle blush lip - using
Elizabeth Arden's Beautiful Colour
Moisturising Lipstick
- will set off your tan. A matte texture works
for a natural daytime look, whereas a sleek gloss with something
like
Sigma's Gingerbabe Lip Eclipse Collection
will elevate your
night time routine.
SKIN
Summer complexions often hint at a less is more look. Forgo
the heavy foundation and work, instead, on achieving a natural
radiant glow using serums and moisturizers – we recommend the
Elizabeth Arden Visible Difference Gentle Hydrating Cream
which
also has a handy SPF15.
Pixi's H2O Skintint
is there for you on
those days when you need a touch more coverage. Use sparingly
and define with a matte bronzing powder and
RMS's dewy
Luminizer Highlighter.
TOOLS
No core beauty collection is complete without trusted
tools. Pro make-up artists Sam and Nic Chapman's signature
Real Techniques brushes
are renowned for being the best
in the game.
T
he Hut
Living
15
Summer
essenti
als
Bare, sun-kissed skin, tousled hair,
and floral scents - everyone has
their summer favourites.
Bellapierre
Cosmetics 12
Eyeshadow
Palette
£29.99
Pi
xi H2O
Ski
ntint
£2
4
Real Techniques Bold Metals
Arched Powder Brush
£25
Elizab
et
h
Arden Vis
ibl
e
Differe
nc
e
Gentl
e
Hydra
tin
g
Cr
ea
m
S
pf1
5
£3
4
B
a
lmain Hair
T
e
xturizing
S
a
lt Spray
(
2
00ml)
£
2
0.65
Eliza
beth Arden
Moisturizing
Satin-Matte
Fin
ish Lipstick
£21
RMS's dewy
L
umini
zer
Hig
hligh
ter
£
28
Sigma Ging
erbabe
Lip Eclipse
Collection
(3 shades)
£25.90
Elizabeth
Arden
Bronzing
Powder
£26
Real
Techniques
Bold Metals
Arched
Powder
Brush
£25