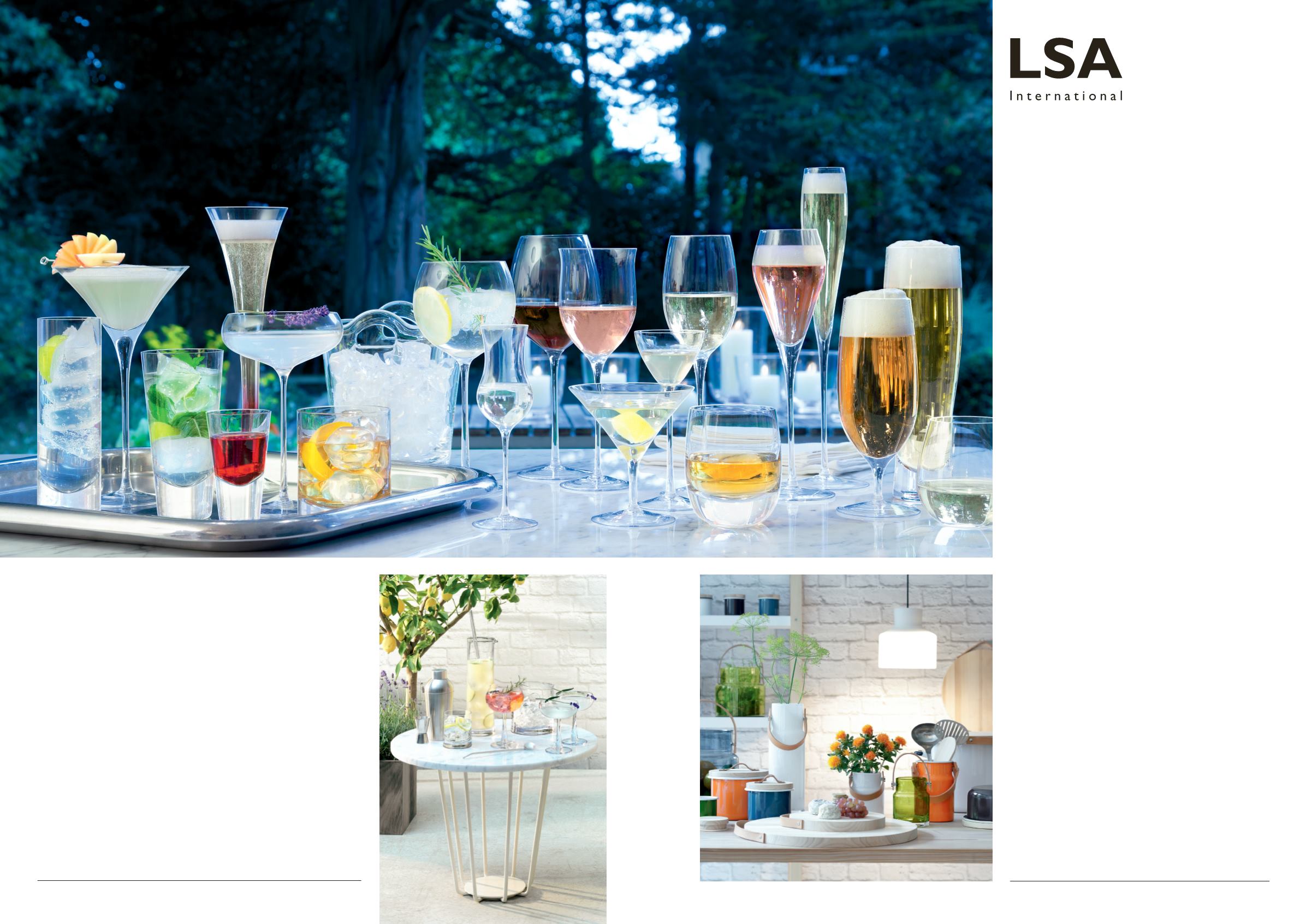 36 The Hut
Living
The Hut
Living
37
Born out of the glitz and glamour of 1960s
Swinging London,
LSA International
is a brand
that knows a thing or two about premium quality
glassware. Starting life out with a small but curated
collection of traditional Polish enamelware, LSA
so expanded its range to specialise in the
luxury glassware
for which it has made its name.
Today one of the industry's most prestigious and
respected glassware makers, Creative Director
Monika Lubowska-Jonas continues her father's
passion for
contemporary design
and traditional
craftsmanship at the helm of the company.
We caught up with LSA for advice on the essential glass
designs you need in your glassware collection.
BORDEAUX GLASSES
Carefully selecting your wine glass is crucial to
unlocking the full flavours of your chosen wine.
A single glass is not ideal for all varieties of red wine,
and your glass should be chosen to complement the
wine you are drinking. Often assumed to be the go-to
glass for red wine, a Bordeaux glass features a wider
bottom and narrow mouth that helps aerate and
maximise the flavour
of medium to full-bodied
wines. The narrow mouth is also designed to bring
the wine's scent bouquet closer to the nose for
a
fuller experience.
WHITE WINE GLASSES
Since white wine doesn't require the same level of
aeration as red wines, white wine glasses are crafted
with a narrower mouth to
lock in the fresh flavours
and smells. As white wines are best served ice cold,
be sure to hold your glass by the stem to keep your
wine refreshingly cool for as long as possible.
CHAMPAGNE FLUTES
The sparkling nature of champagne means the less
exposure to oxygen the champagne gets, the longer
the bubbles last. Designed with a narrow mouth and
elongated walls that
allow the bubbles to develop
and last longer, your champagne glass will also feature
a long stem to prevent the warmth of your hand
from affecting the temperature of your fizz.
CHAMPAGNE COUPES
Allegedly modelled on the breasts of Marie
Antoinette, the champagne coupe has been a popular
choice of drinks vessel in France since the 1700s
but first rose to fame in the US during the 1930s.
Synonymous with nostalgic elegance (and now di
Caprio's Gatsby), the wide, shallow design of the
champagne saucer doesn't lend itself well to bubble
formation so save these glasses for showy occasions
to showcase your good taste.
MARGARITA GLASSES
A hybrid of your classic champagne flute and
champagne coupes, the unusual steeped design
of the margarita glass is essential to
serve your fruity
summer cocktails
up in style.
MARTINI GLASSES
Elevated to such an
iconic status
that it is sometimes
even referred to with the umbrella term of cocktail
glass, the martini glass is distinct for its instantly
recognisable V-shaped bowl and wide rim.
WHISKEY TUMBLERS
Often designed with heavy glass bottoms that
help
retain the cool temperature
of your drink,
a highball tumbler has a larger capacity allowing
for ice and mixers.
Luxury
Glassware
Essential designs you need
in your collection