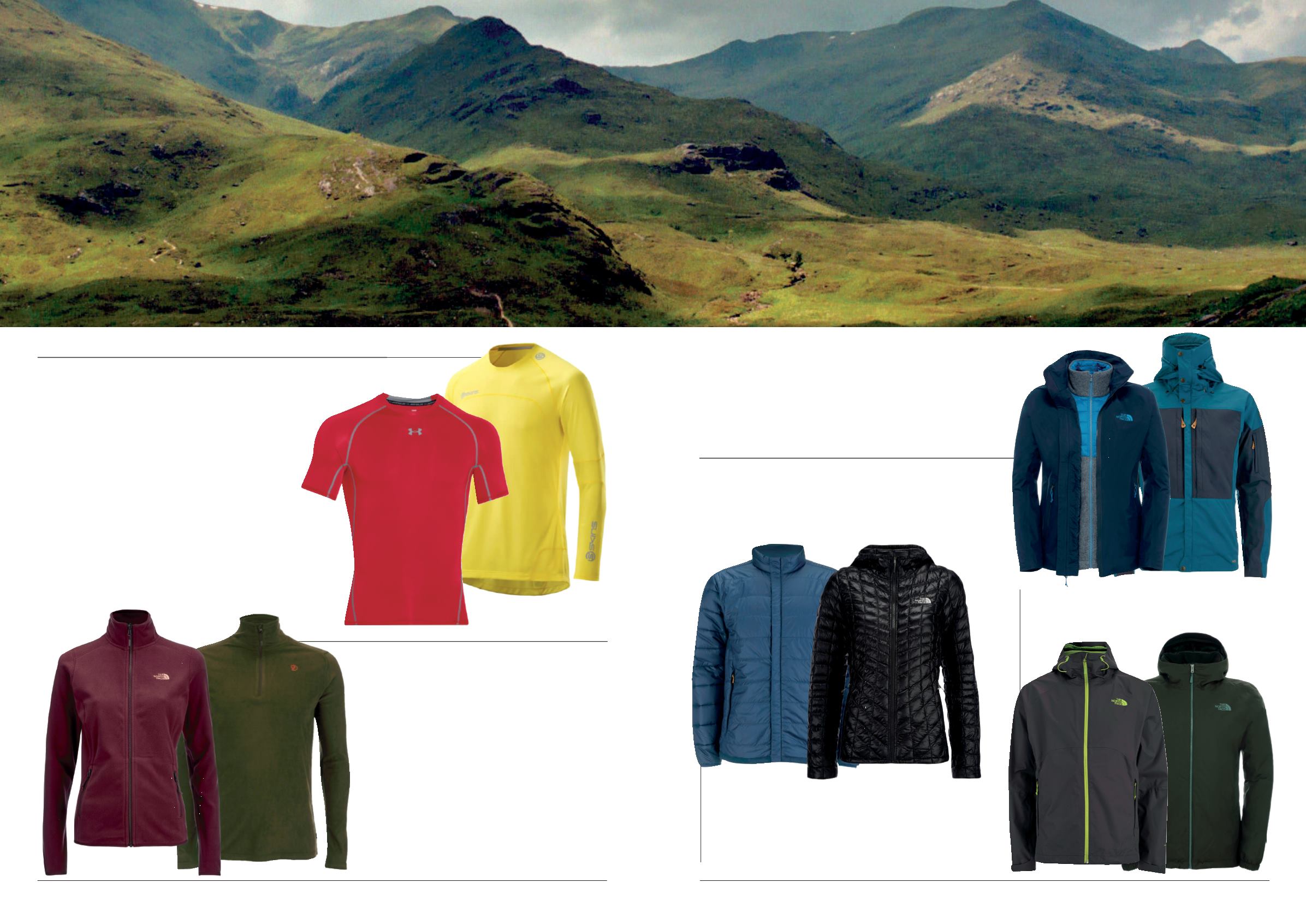 48 The Hut
Living
The Hut
Living
49
Unfortunately here in the UK we aren't blessed with the most reliable weather.
For outdoor enthusiasts, our topsy-turvy climate should be a hindrance and
prevent us from venturing out as often as we might like. Fortunately, though, the
layering system has been developed as a tried-and-tested way of staying warm,
dry and comfortable whether walking under the beating sun or in a deluge of rain.
When layering for outdoor activities, each and every layer serves a purpose.
You should be able to add or remove layers easily and quickly to adjust to the
changing weather, and each layer must be light and packable for maximum
convenience on the go.
BASE-LAYER
As you might have guessed by its name, your
base-layer is the first layer that will lie next to your
skin. The base-layer is designed to trap a thin layer
of air next to your body to regulate your body
temperature while also allowing perspiration to mov
e
away from your body to evaporate - keeping you co
ol
and dry in the process.
Popular base-layer fabrics include merino wool
- with fine fibres that are insulating and quick-
drying - and synthetic materials such as polyester
or polypropylene which are excellent at moving
moisture away from the skin while also offering
great comfort. Synthetic base-layers will be more
affordable than merino, but merino is widely touted
in the industry for its moisture-wicking and insulatin
g
properties, in addition to the fact it is 100% natural,
biodegradable and sustainable.
MID-LAYER
Also known as the insulation layer, your mid-layer
should trap body heat to keep you warm in cooler
conditions while still allowing moisture to move
through the layers away from the skin. The most
popular type of mid-layer is a fleece jacket, although
you can also use down-filled jackets, synthetic
insulation and soft-shell jackets in cooler climates.
Affordable, durable and quick-drying, a fleece
will be your go-to mid-layer piece. Fleece jackets
can be purchased in different thicknesses depending
on your needs, ranging from thick 300-weight
fleeces to thin microfleece jackets for mild
temperatures. For even greater warmth, you can
opt for a down-filled or synthetic jacket that
works to maximise insulation.
INSULATED JACKETS:
In dry but cold conditions,
insulated, synthetic or down-filled jackets can be used
as effective outer layers to protect against the cold. It
is worth noting that if you are using an insulated outer
jacket, it is worth having further layering options to hand
in case of changing weather conditions.
OUTER-LAYER
Your outer or shell layer is your first and last defence against
the elements. While protecting you against the wind, rain
and snow, a good outer layer will also allow the moisture
and heat from your body to escape to prevent overheating.
There are essentially three types of jacket you can use for
your outer layer...
A Simple Guide to
LAYERING
HARD SHELL:
The classic shell jacket, a hard shell jacket offers
waterproof and windproof protection. Typically made using
GORE-TEX® or Event membranes for outstanding performance,
a high-quality shell jacket might also offer taped seams, a DWR
(durable water repellent) coating as well as good breathability.
SOFT SHELL:
Used in drier but windy
conditions, soft shells are typically lighter, more
flexible and breathable than your hard shell jacket.