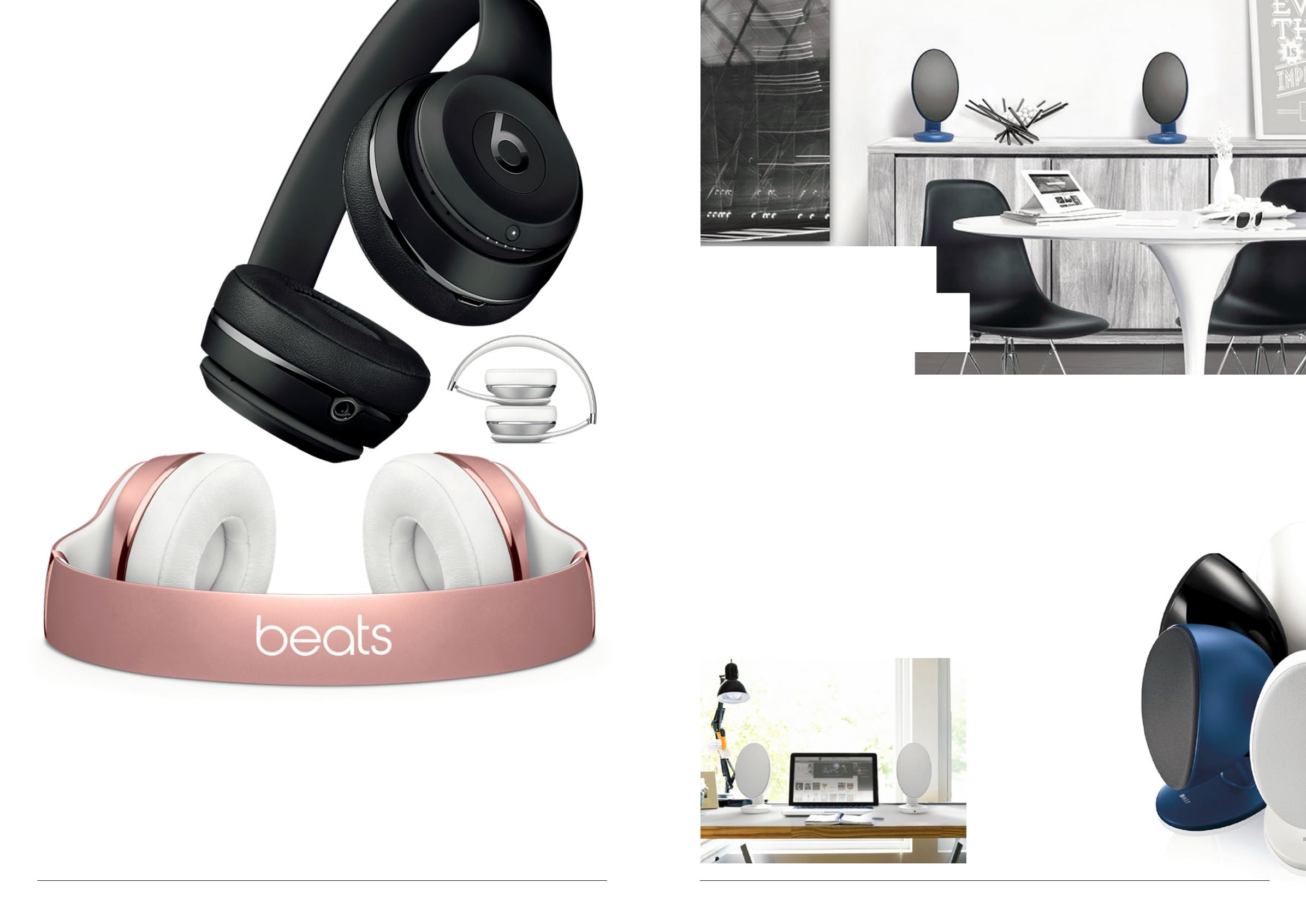 46 The Hut
Living
The Hut
Living
47
BEATS
SOLO3
Wireless On-Ear
Headphones
With up to
40 hours
of battery life, Beats
Solo3 Wireless are
your perfect everyday
headphones. With
Fast Fuel, a 5- minute
charge gives you 3
hours of playback.
Beats Solo3 Wireless Headphones are ready to go when
you are. They instantly set up, just turn them on and
hold them near your iPhone - and then simultaneously
connect to your Apple Watch, iPad and Mac. With Class
1 Bluetooth technology, Solo3 Wireless provide the
soundtrack to your life with wireless efficiency.
Enjoy
award-winning
Beats sound with Class
1 Bluetooth® wireless listening freedom. The on-ear,
cushioned ear cups are adjustable so you can
customise your fit for all-day comfort.
Beats Solo3 Wireless stays true to its predecessor with
bold styling
and a streamlined design. The on-ear,
cushioned ear cups are adjustable so you can customise
your fit for all-day listening comfort. The headphones' fast-
flowing curves and pivoting ear cups complete this natural
fit, designed for optimal comfort and sound delivery.
Box Contents:
Beats Solo3 Wireless Headphones, 3.5mm
RemoteTalk Cable, Carrying Case, USB Charging Cable,
Quick Start Guide, Warranty Card
Compatible with:
iPhone 5 Through iPhone 7 Plus, iPad
with Retina Display Through iPad Pro, iPod Touch (6th
Generation)
Beats by
Dr. Dre Solo3
Wireless Bluetooth
On-Ear Headphones
£249.95
KEF EGG
WIRELESS
DIGITAL
MUSIC
SYSTEM
Streaming tracks wirelessly over Bluetooth
aptX® or bringing your TV to life, the new
EGG Wireless Digital Music System delivers
pure,
clear KEF quality sound
- and as a
complete 'plug-and-play' system with
a built-in amp and DAC, it allows you to
enjoy your music
with the depth, clarity
and detail of true high resolution sound.
WIRELESS / HIGH RESOLUTION SOUND
For enjoying high resolution sound from virtually any
source, the new active KEF EGG wireless digital music
system gives music lovers a complete audio solution that
combines the supremely accurate definition of KEF's
latest Uni-Q® driver array with the ability to stream tracks
wirelessly via Bluetooth aptX®. With integrated amplifier
and DAC, 96kHz/24-bit mini USB input, distortion-free
digital speaker connection an
d optical connection to your
TV, it fulfils every requiremen
t for a flexible, compact,
high resolution main sound sy
stem.
ONE SYSTEM
FOR EVERY USE
As wireless speakers for your
computer or mobile device, t
he
KEF EGG allows you to strea
m
your music in full stereo to a
standard no single box
system could ever match;
using the 96kHz/24-bit mini
USB input gives you true
high resolution response
comparable to our acclaimed
audiophile loudspeakers.
For TV sound, it massively
outperforms even the best on
-
board speakers, and with min
imal
controls and connections,
it's simple to set up for any
listening environment. For ev
en
more bass extension, there's t
he
option of adding any KEF sub
woofer,
it will totally transform your v
iewing pleasure.