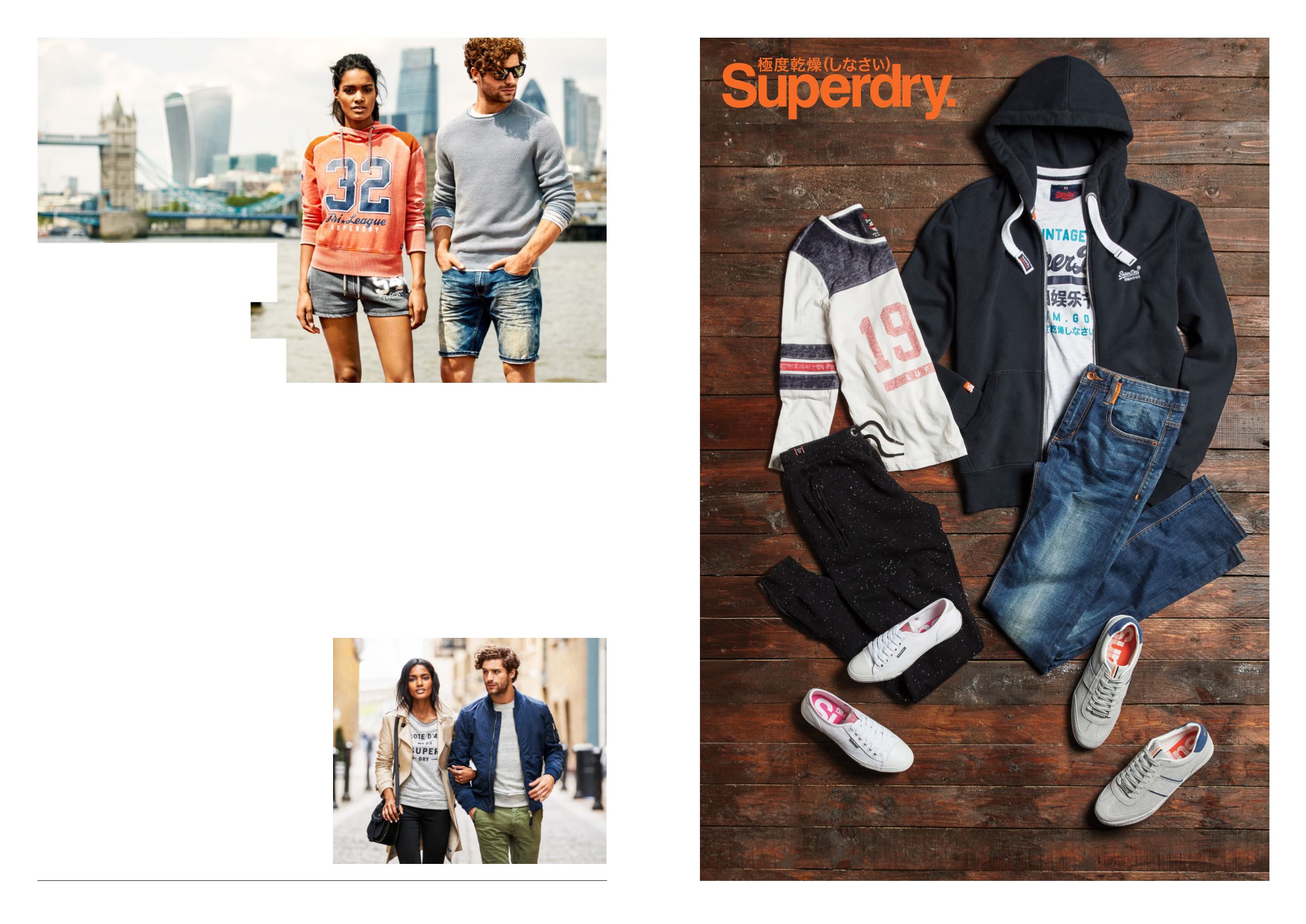 6 The Hut
Living
Starting life on a
humble market stall
with just five T-shirts making up its first
collection, over the course of just 30 years
Superdry has rapidly grown
to take its
place alongside such British establishments
as Burberry and Marks & Spencer on the
FTSE 250. With an international celebrity
following and recently presenting its latest
collection at London Collections Men's,
Superdry's inexorable rise marks the brand
out as one of
British fashion's greatest
success stories
in recent times.
While it may have the feel of a cool Japanese import,
Superdry was born when Julian Dunkerton's passion
to create an exciting new fashion brand in the 1990s
led him to book out that market stall in Cheltenham.
The brand gathered steam when former Bench owner
James Holder joined the brand after exploring inspirations
for his new ventures during travels in Japan. Together,
Holder and Dunkerton conceptualised a brand that fused
vintage Americana and Japanese-inspired graphics with
a British attention to quality and detail that we know
and love today as Superdry.
With its focus on craftsmanship and contemporary
styling, it is easy to see the enduring appeal of Superdry's
clothing. The brand's focus on quality fabrics, authentic
vintage washes, original detailing, hand-drawn graphics
and contemporary tailored fits is evident in each piece
the brand now creates. Superdry has also marked itself
out as a specialist in the art of the casual. Washed out
but not overly vintage, sporty but not overly technical,
Superdry is undeniably one of contemporary fashion's
most democratic labels.
The brand's menswear and womenswear Spring/Summer
'17 collections are a testament to its democratic appeal.
Showcasing the hallmark Japanese-inspired logos and
detailing that are as instantly recognisable as the brand's
logo, Superdry's new collections should be the first port
of call for anyone seeking casual comfort and
contemporary styling this season.
The Hut
Living
7
1.
4. & 5.
6.
7.
2.
3.
1.
Superdry Women's USA 1962 Burnout Varsity Top
£28
/
2.
Superdry
Women's Luxe Fashion Joggers
£50
/
3.
Superdry Women's Low Pro Train
ers
£24.99
/
4.
Superdry Men's Orange Label Zip Hoody
£50
/
5.
Superdry Me
n's
Premium Goods Duo T-Shirt
£25
/
6.
Superdry Men's Copperfill Loose Denim
Jeans
£65
/
7.
Superdry Men's Classic Court Vintage Trainers
£54.99
A GREAT
BRITISH
FASHION
SUCCESS
STORY